Top death-rap artists: Trish's picks
OK. So I know I generally try to keep this journal about all things metal, however there is a related style of music I'm really into which is called 'death rap'. The term was invented by none other than the notorious underground hip-hop artist, Necro, in order to describe his ultraviolent lyrics which were inspired by death metal. These are the primary progenitors of the genre, and my personal favorites:


NECRO. Born and raised in Brooklyn. Founder of Psycho+Logical Records. Has released six albums to date.

ILL BILL. Necro's older brother. Gained popularity during his stint with the underground hip-hop group, Non Phixion. Has released six solo albums to date.

SABAC (RED). Born in Puerto Rico, but raised in Brooklyn. One of the original members of Non Phixion. He has just one solo album out, 'Sabacolypse' (2004).

GORETEX. One of the original members of Non Phixion. Currently has two solo albums out.

MR. HYDE. One of Necro's best friends. His flow is real basic, but his beats and samples are mouth-wateringly good.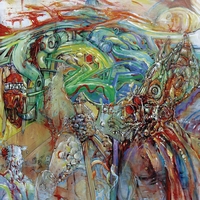 IDE the SHANTY ONE. I can't find a picture of him alone but this is the cover of his debut album, 'Force Fed' (2007). It was the second full-length release from Creative Juices Music.

JAK PROGRESSO. My favorite, hands down. Again...no pictures of him alone but he does have a few videos up on Youtube. This is the cover of Creative Juices' first full-length release, 'Random Violence'. Gritty angst-filled voice spittin' macabre, beautifully violent rhymes. Check out the track 'Random Violence' and he describes himself perfectly, "Jak is the f---in' sh--. That's it." I couldn't say it better myself.
So Buzznet, check 'em out and see what you think!
You'll
♥
Loading related posts from sailthru...